I popped over to training yesterday morning over at Summerhill Lane, only to find the place deserted.
Fortunately, Quent had also made the trip and he very kindly gave me a lift over to the BPA where there was a group of players out on the pitch working with Nick Walshe; mainly first teamers with a few academy players also involved. It looked as if there were others inside either in the gym area or elsewhere in the building.
The news on the injury front sounds promising, with Pete White still clearly in a bit of discomfort but in full training kit and in his words, 'getting there'…I certainly wouldn't be surprised to see him in contention again this coming weekend, although how the leg recovers over the next couple of days will be crucial in determining his fitness. I imagine if he's not able to train on Thursday, he won't make it into the match day squad.
There were a fair few aching bodies at the club today, even James Stokes looked to be uncomfortable coming down the stairs of the main stand, but that was  just a reaction to the physicality of Saturday's game against Hull. Not having really seen players during the week between games before RW's arrival, I think I'd taken if for granted that a good sleep on the Saturday after a match and a quiet Sunday and players would be up and ready for training again on the Monday…but that's clearly not always the case. Some players take longer to recover from a game than others – and I don't think that's necessarily just related to their age.
How the rehab team individualise recovery times would make for  an interesting session at one of the Supporters' Club forums.
James Stokes is a classic example – he takes some big hits during the course of the game. He never holds back and whether in the tackle or taking a high ball, he's always 100% committed. Last season he had a number of what looked like quite nasty knocks, leaving the pitch on a couple of occasions, but he was always back the following Saturday despite the fact that he looked physically wrecked afterwards.
Come Thursday, he'll be giving it all in training but he looked uncomfortable yesterday. Even I winced as he went down those steps…
I'm glad I was with Quent – had I been on my own, and being a Billy-No-Mates, I would have made a beeline for the section of the stand which was deserted, but Quent is far more gregarious than I am and headed straight for the players.
We ended up sitting next to Sam McNulty – and what a pleasant lad he is.
Although he chatted away about the Development Squad's game on Saturday, which in itself was fascinating, the thing I found most interesting was just how up to speed he was with regard to the first team game over at Hull. Quent and I were talking about what we saw as the pluses, one of which was the improved line-out. In no time at all, Sam had reeled off statistics about the amount of ball won on our ball and theirs as well as a range of other information about all sorts of aspects of the game.
When I looked surprised at just how much detail he knew about what was, after all, a game in which he hadn't played, or even seen, he explained that earlier in the morning he'd been present at the feedback on the Hull game – and he'd clearly retained all the information. I'm not sure what those meetings involve , but there's obviously some pretty detailed analysis and you couldn't help but be impressed by the quantity and quality of information that Sam had at his disposal, even though he'd been playing against Cambridge.
I was most impressed. Even as a member of the Academy side, he's included in all aspects of the senior squad programme.
We had a quick chat with Nick Walshe after the training session  as well and he reinforced what he's said for the piece on the official website – everyone was glad to get the opening game out of the way and that it had been a good test for Cov, with Hull making it tough for us early on and at no point showing any signs of capitulating under what was, after all, some pretty intense Coventry pressure in the second 40. He thought Anthony Fenner might be back closer to two months not three and confirmed it was a question of just waiting on Pete White's dead leg to see how much it improved over the next couple of days.
Everyone's looking forward to the weekend and the expectation of a big crowd, although no one I've spoken to from the club will, wisely, put a figure on what they think it might be.
NW did say how impressed the players were with the away support at Hull, especially those new to the club.
I can't help but think the roar from the main stand as the players leave the pitch after the warm up will be a huge motivation as they head back to the changing room for the final time. Cov has a real advantage in terms of playing in front of  such a large crowd and benefiting from the atmosphere it creates when everyone is in full voice – I really don't think we appreciate just how much we can affect the players when they are on the pitch.
And plenty of noise BEFORE the game might unnerve Moseley, too.
For the players and coaches it has to be just another game, it can't really be anything else, but at the same time they need to be aware of the intensity of what it means to the fans for whom Moseley at home is THE game of the season…
…closely followed by the one against Moseley at Billesley.
~~~~~~~~~~~~~~~~~~~~~~~~~~~
The Development Squad game  on Saturday was  arranged following the cancellation of Cambridge's Zoo Sports Shield fixture against Barnes. It was only a friendly and although both teams will play each other in the league, the result of the game at the weekend has no impact on the league table.
However, a number of Zoo Shield games did take place last Saturday and I thought it might be interesting to include the results here, just as a pre-cursor to the Development Squad's first game, against Jersey at home on 16th September.
The first round games produced some interesting scorelines…
Ampthill 2nds 23 -22 Jersey Athletic
Blackheath Heathens 2nd XV 19 – 14 Richmond Saxons 3rd XV
Esher Cardinals 12 – 89 Old Elthamiams
London Scottish 2nd XV 52 –  7 Bishop Stortford Blues
Richmond Vikings 2nd XV 50 – 12  Chinnor 
There are 14 teams in the league in all, with Cambridge, Barnes, Cinderford and Coventry all having teams that didn't play on Saturday, and it's worth noting that Richmond have two teams involved in the competition. For future reference, at the top of the homepage, underneath the main photo that runs the width of the page and to the right, I have included a link that will take you directly to the Zoo Sports Shield webpage where the results and the league table can be accessed.
I imagine that one or two of the sides will be very strong, especially those representing the Championship clubs of Richmond, London Scottish and Jersey. However, Jersey contrived to lose to Ampthill and Richmond 3rds to Blackheath 2s, so maybe it won't be as predictable as it might look on paper. Old Elthamiams result against Esher stands out for obvious reasons, although it might be that Esher put out an understrength team just to honour the fixture – looking at the results last season, there were a number of games forfeited because one of the teams involved couldn't put out a full side.
Coventry certainly appear to be taking this competition seriously and whilst the sides they select are always going to contain some young, and relatively inexperienced, players there is plenty of talent there and with the inclusion of one or two of the more senior pros as well, you'd fancy Cov to hold their own at this level. It's going to be a couple of weeks before the Development Squad play again, unless there is another hastily arranged game this Saturday, but I understand the idea was to have just the one game this coming weekend given that it's Moseley and the logistics of hosting that makes it difficult to also organise an additional fixture for the DS.
Which makes perfect sense to me…
~~~~~~~~~~~~~~~~~~~~~~~~~~~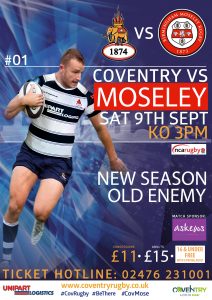 Now that the Hull game is out of the way, as supporters the focus is already very much on Moseley at the weekend (…as if it wasn't before…).
I had a quick look on their Messageboard, which is even quieter than ours at the moment, with very few posts about the forthcoming derby game on Saturday.
However, I understand that Moseley has filled its supporters' coach already which sounds promising and the pre-match hospitality in the Platinum and Vice-Presidents' Suits at Cov are also fully booked, with only a few places remaining downstairs in the Millerchip Suite. All of which points to a pretty decent crowd.
Whilst on the Moseley MB, I had a quick look at some of the comments from supporters at the Ampthill game and there were one or two interesting posts questioning the number of times Mose was penalised by the referee for back-chatting or use of profanities etc. There was a post on this blog a couple of weeks ago about the RFU wanting a crackdown on unprofessional behaviour on the pitch and it seems that, if you'll pardon the pun, Moseley fell foul of this:
Also note – from what we saw and from what I saw on BT Premier matches – there is a lot stronger reaction by referees to "mouthing issues" – how many instances were we culprits of this infringement and is it something to be very wary of?  (Moseley Messageboard)
Well the answer is yes, they should, as should all clubs at all levels of national rugby. (If only they'd read New guidelines for unsportsmanlike behaviour 😉 )
Somebody else posted:
spoke to the referee assessor at the end of the game and he did mention that refs will be very strong on verbal comments. Expressions such as bl***y hell ref will get penalised. Swearing or "bad mouthing" the ref is totally unacceptable but a remark which demonstrates a level of frustration is inevitable at times and I must say I would have struggled yesterday as Ampthill's last try was definitely scored after a blatant forward pass… (Moseley Messageboard)
which, for me, raises an important concern about how the players from both teams will handle the pressure out there on the pitch on Saturday, especially if it's a tight game with little in it going into the final quarter.
Having called for the supporters to get behind Cov and make plenty of noise, when generating an atmosphere that is intimidating for Mose as it is motivating for Cov, there is always the danger that the players could get swayed by the mood of the crowd. If, and when, important decisions don't go our way, the response of the crowd could influence players caught up in the moment to say or do something that under the present guidelines would result in conceding a penalty or worse.
With potentially four of the Coventry side having played for Moseley last season (Grove, Brazier, Preece and Oram) and with Dacres also having had a season there, there are plenty of little duels to be won or lost over the course of the afternoon. And of course there's the return of ex Cov favourite Jacques Le Roux. Pressures like those tend to build and unless the players show discipline and restraint, it could end up all going belly up if they're not careful.
Isn't it building up nicely…?
Coventry kept their discipline extremely well up at Hull, but playing in front of 2500 (perhaps) impassioned Coventry supporters is altogether different.
I imagine the likes of Sam Tuitupou, Phil Nilsen, Luke Narraway and Latu Makaafi, players who have seen it all before at both national and/or international levels, will be vital in bringing a bit of experience and calm to a potentially volatile situation. At the risk of stating the 'bleedin" obvious, the team that copes best with the pressure is the team that gives itself the best chance of winning the spoils. If the occasion gets the better of one or other team, then it's an uphill battle from then on.
That's why perhaps we have a slight advantage going into the game, having a team containing some old heads and with far more experience that the Cov team of last season. Just how much that will count for in the end is unclear, but it should give us an edge even before the game starts.
It has the making s of a classic – two teams with genuine hopes of a top two or three finish or better, the home side probably labelled as favourites but against a side that is more than capable of causing an upset. Add to that the fact that it's a local derby,  attracting  probably the biggest crowd of the season across the whole league, and it becomes even more interesting.
I'd love to say I'm confident, but Cov v Mose games are invariably tight and with it being so early in the season, form doesn't really count for a great deal.
Do I think Cov will win…?
…yes.
Do I think it will be squeaky bum time for most of the 80 minutes…?
…sadly, yes.
The closer we get to the game, the more unsure I'll be.
This isn't just any game of rugby.
This is Coventry v Moseley
~~~~~~~~~~~~~~~~~~~~~~~~~~~
A few photos from training yesterday morning: