There have been times that I thought I couldn't last for long
But now I think I'm able to carry on
It's been a long, a long time coming
But I know a change is gonna come, oh yes it will
Sam Cooke – A Change Is Gonna Come
Thursday night's training was as intense as ever and there certainly appears to be no end-of-season apathy as far as Cov is concerned.
The squad was put through its paces again, forwards and backs separated for a while before coming together to work through whole team routines.
Craig Newby was present, taking the players through some defensive scenarios, but at all other times Nick Walshe seemed to be overseeing the session, other than when the forwards were working in isolation, at which point Boris was working his magic, together with Louis Deacon.
Rowland Winter came across  to chat to the supporters and was again happy to answer questions about all things Cov.
He was asked at one point about what would happen next year as far as the coaching set up was concerned. Unfortunately, I struggled to hear everything he said (deaf as well as stupid, then, before anyone else says it), but I did glean a few bits of info.
Boris will be coaching for at least two of the three evening sessions (I think RW said two, but I might be wrong on that) and will be with Coventry for probably half of the Saturday games. During much of the week, and on some weekends, he'll be working with Leicester during which time Cov will be compensated for Boris' absence by the Premiership club.
I think he's already been pretty heavily involved with Leicester over the last few weeks so I don't think it's anything to get too worried about – Boris is committed to Cov for the next 12 months and he'll have an big input. With the front row pretty much the same next year, he won't have to start from scratch again and I'm sure Harry Morley and Jake Byrne will benefit hugely from his presence.
Luke Narraway (forwards) and Sam Tuitupou (backs) will also be involved in coaching the first team squad in their dual roles, both overseen by Nick Walshe who, as was announced a few weeks ago, will be the Head Coach. I'm presuming Brendan Burke will still be involved, but I know from previous training ground conversations that he is finding work commitments down south are making it increasingly difficult for him to be present as much as he and the club would like –  speculation here, but it might be that he is offered a reduced role.
We also know that Craig Newby wont be with us next season, and have known that all along, and also that Louis Deacon will be the line-out coach.
Craig Newby's influence on the team's performances since his arrival has gone under the radar a little but I do think that since he joined the coaching staff, Cov's defence has got stronger and stronger and we have become a much harder team to score against after Christmas than before. This is borne out by the stats which show that in first half of the season, up to including the DMP game (game 15), we conceded 435 points and since then, in the next 14 games (so one game less) we have conceded just 276. That's almost 10 points a game less.
Craig Newby arrived at Cov in December…I rest my case.
He'll be a tough act to follow but just as Craig Newby has had a big impact so, too, has Nick Walshe and it's clear that NW's involvement has helped move Cov a long way forward from where they were after the game against Old Albanian back in December where, thanks to 10 injury time points, Cov won by the odd point in 85. It was after that game that James Pritchard left and Nick joined within something like 10 days.
I know nothing about the art of coaching but I do like to watch Cov train under Walshe – it's 90 minutes of constant movement, with quick orders barked out at regular intervals and plenty of encouragement along the way. He looks to be an excellent communicator and can always be seen talking to players in the warm up on a Saturday, often on a one-to-one basis,  seeming to offer encouragement as much as last minute advice.
It also appears from what people have said that he is very popular with the players.
He came over to talk to us after the training which was a nice touch  – and one that I know was appreciated. He's surprisingly quietly spoken for a man with such a stentorian approach on the pitch, and seemed genuinely interested in what the supporters had to say. He talked openly about the game and how Coventry might approach it and is clearly expecting Loughborough to be up for the challenge, despite the fact that there is nothing riding on it for them whatsoever, other than to give their DoR a decent send-off .
It would seem that Cov will look to play a cautious game for the first 20 minutes and ride out any initial Loughborough pressure before looking to open the game up, rather as they did against Old Albanian. In the opening 30 minutes or so of that game it was quite tight before Cov suddenly cut loose in the 15 minutes leading up to half time, scoring something like 5 tries in those last few minutes.
Loughborough will arguably be the fittest team in the league and on an artificial surface it will be a good test for Cov. Personally, for me it will be down as much to attitude as anything else. Despite a few changes this week, the coaches have selected what is another strong side and if the players remain focused and don't have another one of those wobbles, well, we should make it 8 in a row.
Good to see so many young players in the match day squad…Povoas, Byrne and Priestley are all 20 or younger and Sam Harry isn't much older. The youngsters have served Coventry well this season and proved that if you're good enough, you're old enough.
I'm really pleased to see Will Priestley selected for his first possible appearance for Coventry (is it really Willie, as included in the squad list on the official website?). There's even a chance, presumably later on in the game, that we might see a front row that includes both Byrne and Priestley and, whilst we've had dual reg. props at Cov in the recent past, two home grown players, both not yet 21, is certainly something to be rightly proud of.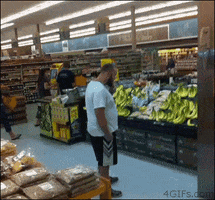 So the end of the season is upon us…and upon me, with  just a two or three posts remaining. I think everyone is who is travelling over to Loughborough is doing so full of expectation. However, if ever there was a metaphorical banana skin waiting to be trodden on, then this is it.
But it is one that everyone can see and should be prepared for. Confidence is high at the moment and I'm sure the players, individually and collectively, will want to make a statement to those players who will be joining up with the squad in a few weeks time and who will be looking with more than a passing interest at the National One scores today.
Another win on our travels and another message to the coaches…we're in possession of the shirts, those coming in are going to have to take them off us because we're not going to give them up without a fight.
That's what I would hope to see coming out of the game today – a focused, disciplined performance that is further evidence that Coventry are continuing to make good progress and that the away day problems that so overshadowed the team before Christmas are well and truly a thing of the past.
~~~~~~~~~~~~~~~~~~~~~~~~~~
I promised I'd include the results of Wednesday's poll where I asked the question: 'Who, out of all the players joining us next season, are supporters most looking forward to seeing in a Cov shirt?
And it turned out to be a lot closer than I thought it would be:
Sam Tuitupou – 33%
Jack Preece – 29%
Luke Narraway – 16%
I did think Sam might walk away with it, but in the end Jack Preece proved extremely popular and suggests that there is plenty of excitement at the prospect of seeing him play at the BPA next season, as much as some of the better known players even.
I actually voted for George Oram, simply because I think out of all the players coming in next season, he could be the one who causes the most surprise. He's not even sure of a starting place, but when he gets his chance I am certain he'll impress. He was awesome for England Counties in February and looks like he'll add more physicality to the pack whilst also seeming to enjoy taking the game to the opposition. For a big man, he is surprisingly mobile with ball in hand and he'll certainly fit in well with Cov's current preference to attack.
~~~~~~~~~~~~~~~~~~~~~~~~~~
Seats on the coach confirmed, monies paid and it's all systems go for the final game of what has been the most enjoyable season since…
…well that would make an interesting poll in itself…
…probably '96-97 for me, the season we ended up playing London Irish in the  Championship play-offs.
Anyway, if you're not able  to get across to Loughborough but want to keep up-to-date with what's happening at the University Stadium (seriously?) in real time, other than just updates of the scores, please let me know and I'll be happy to tweet regularly from the game. The tweets, when combined, make a crude  'commentary' of sorts.
@CoventryRugby will usually offer score updates, as will the Messageboard, but usually taken from Twitter. Loughborough also has its own Twitter account (@LboroRugby), although it appears to tweet just score updates.
Please bear in mind, I am a bit one-eyed when I tweet, covering more than just the scores as they occur… usually there are other choices available though, depending what it is that you're looking for.
I'm on @Cowshedtim.
Hopefully, there will be a decent signal from the Loughborough ground.
Apologies in advance for some of the typos that appear. It all gets a bit fast and furious at times and I'm all fat fingers and fat thumbs, getting fatter by the week!
If you aren't familiar with Twitter or don't have an account, then on the homepage of this blog (www.coventryrfc.me) all the tweets will appear in real time on the far right of the page, towards the top end.
Up the Cov!
~~~~~~~~~~~~~~~~~~~~~~~~~~
I couldn't find the Sam Cooke version…
…but Seal isn't a bad alternative….great, great voice.
It's been a long time coming…but I know a change is gonna come 
(And it's already begun….)