Ya know ya gotta serve
Ya know ya gotta please
My (Cov) puts my mind at ease
Friday comes 'n' I'm thinkin' of you
Cause at five o'clock, they're gonna set me loose
Come on, babe, we're gonna live it up
I live, I live, I live for the weekend
I live, I live, I live for the weekend
Triumph – I Live For The Weekend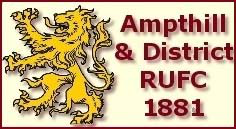 Ampthill are certainly going to fancy their chances of winning a ninth game on their travels this season, a record that has to be respected by Cov supporters who must themselves be hopeful of a twelfth home win of the campaign.
Everything about the game says it's going to be a tight affair, with the winner probably being the team that can gain an ascendancy up front.
For 70 minutes back in November, Coventry made life very difficult for Ampthill and arguably had the better of them in the set pieces and by half time we were in the lead.  After 70 minutes it was honours even at 8-8.
Sadly, it wasn't to be and Ampthill scored two late tries to leave us ruing a couple of earlier missed chances, together with a lack of concentration and some poor defending in the final few minutes that in the end proved decisive.
Ampthill deserve plenty of plaudits for the way they have kept up their challenge to be the best of the also-rans, otherwise known as second place in National One, over such a long period of the season. Whilst they might not be one of the most high profile clubs in our league in the way that Plymouth, Moseley, Blackheath, Rosslyn Park and Coventry probably are, they have made excellent use of the resources available to them and have been able to attract, and keep, players with great experience, especially their Tongan contingent.
There aren't many teams in our league who wouldn't welcome the likes of Aleki Letui and Ma'ama Molitika into their squads.
And, despite the moans from supporters like myself about the lack of pitch side facilities over at Ampthill or the lack of any covered areas for supporters or even the concerns over the access for the emergency services, they are in third place…
..ahead of the likes of Moseley, Blackheath, Rosslyn Park and, of course, Coventry.
Fair play to Ampthill. then.
However, whatever the result this afternoon, I would tentatively suggest this is a better Coventry side facing Ampthill today than it was back in November.
Only eight players who played in that game start this afternoon. Those coming into the team are: Howe (Pritchard), Stevens (Hircock), Grasso (White), Litchfield (Stankovich), Tolmie (Price), Jubb (Snyman) and Tuilagi (Grace).
Okay, Boris is always going to be missed, as is Snyman (although, in  fairness, I think Tom Jubb has matured no end since Christmas), but the likes of Stevens, Howe and Tuilagi are going to strengthen the side and Litchfield is a pretty good replacement for Boris and far better than most loose-heads in National 1.
Grasso and Tolmie deserve their starts and with White and Price on the bench there's plenty of cover there as well.
And not only is the team strong in terms of the players involved, it is also a team that has been together now for the best part of a season and has enjoyed a better run of results than in those early games when four of our nine defeats occurred in the first six games when we were still very much a 'new' squad that had yet to really gel.
We're still not the finished article by any means, but I do feel we have developed into a stronger side than we were when we played Ampthill earlier in the season.
This is squad with more confidence and more self-belief than back then and even though Ampthill have won 8 games away from home, they have yet to beat any of the top seven teams they've played on their travels, whilst at home we have been all the top seven we've met at home, other than Hartpury (with Rosslyn Park still to visit us).
Home advantage 'should' give us the edge, but maybe 'could' would be nearer the mark.
A quick count on the rolling-maul.com predictions thread sees Ampthill favourite to take the points 18-21, close enough to confirm that in all probability it is going to be a tight one.
If Cov get their game plan spot on and we don't waste the possession we earn, then I think we've got the armoury in the backs to win ourselves the points. The scrums could prove significant and provided the referee gives our front row a little more protection than it received for much of the game last week, we should be able to gain the upper hand and we could see Coventry then begin to run at Ampthill as the game opens up a bit in the second half.
Will Maisey and Darrel Dyer will want to redress the balance a little, having lost to their former club earlier in the season – it would be good to see them both on the score sheet, with Will preferably scoring a hatful of points, mostly from conversions!
Arguably, this is the toughest of the 6 remaining games and a win today would set us up nicely for the run-in to the end of the season. There's all to play for with many of those teams above us having to play each other in the next few weeks.
Take today, for instance.
Moseley take on Plymouth at home and a defeat for Moseley and a Coventry win would see us potentially just six points below our neighbours and they have yet to welcome Hartpury to Billesley Lane, as well facing awkward trips down to Esher and Blackheath (as we've found out to our cost in recent seasons!).
Many supporters, and one or two players too I imagine, would welcome the opportunity to enjoy bragging rights over our local rivals for the next few months or so, particularly with Tom Preece and Alex Grove soon to join the squad.  With most of the players still here staying on, motivation certainly shouldn't be an issue and whilst winning the next 6 games is unlikely, it would be made much more likely if we beat high-flying Ampthill – on paper at least, by far the  most difficult of our remaining fixtures.
I'm sure Ampthill will want to play the role of party poopers this afternoon and they are going to present a really tough challenge.
Still fancy Cov, though…
And it will be good to welcome Pete Weightman and Sam Baker back to the Butts…together with the rest of the Ampthill Mob.
…just so long as we don't make them feel too welcome once that whistle blows at 2.15 pm this afternoon.
~~~~~~~~~~~~~~~~~~~~~~~~~~
Please don't forget to vote for the 'Man of the Match' award over the next couple of days.
I'll put a post out soon after the end of the game and it will be 'live' until Sunday evening and the results announced early next week. It's always interesting to see whether spectators confirm the sponsors' decision, something which isn't always the case. At the moment of the 8 MoM  polls on the blog this season , only 4 have coincided with official 'Man of the Match' award.
Thank you in advance for your support.
~~~~~~~~~~~~~~~~~~~~~~~~~~
As always:
If you're not able to make it to the game today but want to know what's happening other than just updates of the scores, please let me know and I'll be happy to tweet a 'commentary'.
I'm afraid my texting is even less accurate than my typing and on occasions I do come up with some confused messages at times, sadly often to the amusement of those following the game via Twitter. Hopefully, it won't be quite as cold as it has been at times this season, in which case it shouldn't be too much of a problem as they old fingers will be working just fine.
I do tend to tweet fairly regularly, enough to provide an abbreviated Twitter commentary which at least gives a feel for what is happening on the pitch.
@CoventryRugby will also usually offer score updates, as will the Messageboard and it's worth checking Ampthill's own Twitter feed.
However, the difference is mine probably are a bit more detailed…there's some choice available though, depending what it is that you're looking for.
I'm to be found on @Cowshedtim.
If you aren't familiar with Twitter or don't have an account, then on the homepage of this blog (www.coventryrfc.me), all the tweets will appear in real time on the far right of the page, towards the top end.
Up the Cov
Tim
~~~~~~~~~~~~~~~~~~~~~~~~~~
I can't believe I've included this in the blog – the antithesis of everything I enjoy as far as music is concerned.
But for any headbangers out there who want to play air guitar for 5 minutes, here's Canada's finest – Triumph
Sadly I shared digs back in the day with someone who thought this was the future.
Put your head next to the speakers and let your eardrums bleed.