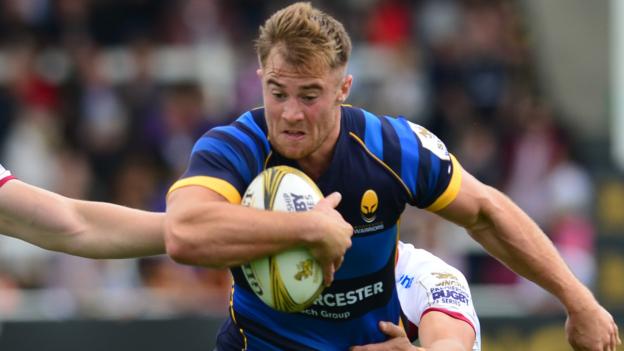 Heath Stevens…
A quality signing as far as I'm concerned.
You watch players come, you watch them go.
Some players sadly don't make a lasting impression, whilst others remain vivid in the memory.
Heath Stevens falls into the latter category.
He joined us as an 18 year old in 2011 and, despite his age, he became a regular in the team in his first season and remained so for the three years he was at Cov,  also representing England U20s during his time with us.
In fact, he had 27 starts in the 2010/11 season, 25 in the 2011/12 season and 24 his final season in 2012/13 – 79 appearances in all and still only 22 when he left to join Plymouth Albion.
Back then, he was a strong, direct runner, as happy to run through a defender as round and very much in the Will Hurrell mould. Arguably, Heath was a bit quicker than Will but lacked the all-round physicality, despite being powerfully built himself.
I've included the photo above because it looks to me as if he has certainly bulked up a bit in the arms and shoulders, something that  will presumably give him even greater strength in the tackle.
And when he made a tackle, the player he hit stayed tackled!
The above clip of Heath Stevens back in 2011/12, still only 19, offers a brief glimpse of what we can look forward to on his return to the BPA. Plenty of great players on show, too. It's worth also watching out for Alex Nash in some of the plays – the man's everywhere. A real Cov legend.
Maybe there's someone reading this who can verify an incident I think I recall (!) involving Heath Stevens back when he was last a Cov player, one that I  vaguely remember, although I might have got my wires crossed somewhere along the way and be confusing it with someone else..
In a home game, following a restart, Heath jumped for the ball in competition with the opposition forwards, caught it and then ran in unopposed without a player laying a hand on him…I think he did, anyway.
And if he didn't, he was certainly the type of player capable of doing so…!
With Coventry currently struggling  a little to create a great deal in midfield, Stevens might well be the player to make things happen in that area and he is versatile enough to have played out wide as well. Whilst he's not a prolific try scorer, he's more than capable of puncturing holes in defences and creating space for others, whilst also adding some real steel to our defence.
The Coventry announcement suggests he could well play a part in the game on Saturday – having only had 5 starts this season, he might be a bit ring-rusty so  it will be interesting to see if he comes off the bench or is given an immediate start.
Either way, it will be good to see Heath Stevens wearing the Coventry colours again.
Welcome back, Heath!
~~~~~~~~~~~~~~~~~~~~~~~~~
Following the award of Coventry's 'Most Valuable Player' to James Stokes, as voted for by readers of this blog, I received the attached photo yesterday from none other than James himself.
Many thanks for forwarding it, James, and for the following message that was included with it;
It's a real privilege to be named supporters most valuable player of the year 2016. The supporters are arguably the most important part of our club, so to be awarded this is a definite highlight of my career so far. Best wishes to you and the fans, Stokesy!
Nice touch, that, and I'm sure I speak for everyone when wishing him all the very best for the remainder of the season and beyond.
I've mentioned it elsewhere in this blog, but it's worth repeating again here, James is one of those rare players who, when they get the ball, causes a buzz of anticipation amongst the crowd; a player who can conjure up something special out of nothing.
We could do with a couple of those moments on Saturday…!
Well done, James, and thanks for taking time out to send across the photo and message.
~~~~~~~~~~~~~~~~~~~~~~~~~
James isn't the only one sending messages this week.
Chinnor RFC have certainly sent out a message of intent with the signing of three players, all with Championship experience, and all prepared to drop down two levels to help the National Two South side further push their chances of automatic promotion into National One next season – although I'm sure it's not just a question of altruism on their part.
The capture of Ben Pienaar is a real coup. Still only 30 and with experience of Premiership rugby behind him, he's a really  influential No 8 – the sort of player we could do with really!
What it does also seem to suggest is that if Chinnor are promoted, they look as if they intend to do more than just play for 13th place in the league next season and, if there is someone who is prepared to bankroll the club financially, they could surprise a few teams.
And they won't be the only ones necessarily, with Old Elthamians also well backed by all accounts – Dom Lespierre seems to be scoring tries for fun there this season.
With no team relegated from the Championship this season following London Welsh's demise, it appears as if there might yet be one or two of the current teams in National One forced to look over the shoulder next season at the newly promoted sides, especially given Chinnor's recruitment drive this week.
There's no suggestion that Pienaar will remain with Chinnor next season, and given his experience he might well want to move back into the Championship or join one of the more established National One teams.
That said, none of the likes of Plymouth, Moseley, Blackheath, Coventry et al. are exactly flushed with cash at the moment, so it might that the likes of a Chinnor or Ampthill step in.
With ten games still to play, talk is already beginning to turn to recruitment, understandable really given Coventry's intention to push on next season and compete for a top two or three spot or better.
However, the remaining games this season are important for Coventry – if they can win most of them and finish in perhaps the top four, it will set up the pre-season nicely and the squad will be able to hit the ground running. This season, two wins in the first six league games wasn't the best of starts and we lost momentum early on as a result, something we really don't want next year.
A couple of tricky games coming up will be a big test for Coventry, starting with Fylde  on Saturday.
The addition of Heath Stevens should freshen things up a bit and the prospect of a Stevens/Knox pairing in the centre is one to relish, or even a Wheatcroft/Stevens/Knox combination, with Hircock or Trimble on the other wing and Stokes at 15…plenty of firepower there!
Let's hope we see the first shots on Saturday…